Beyond Camden: Health Plans, Hospitals Test the Brenner Model. The Robert Wood Johnson Foundation highlights the work of Jeffrey Brenner, MD, whose hotspotting initiative in Camden, N.J., identifies high users of the health system and develops ways to give them appropriate and timely care. Now health systems and insurers in Ohio, Pennsylvania, and Massachusetts are adopting Brenner's methods.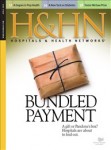 Bundled Payment: Hospitals See the Advantages, But Face Challenges, Too. While most hospital leaders see the advantages of moving to bundled payments for episodes of care, many are unprepared either for the mindset or the mechanics required to implement the emerging reimbursement model. Here are the concerns and possible strategies hospitals should consider.
Video Preview: Is Bundled Payment a Gift or Pandora's Box? Editors at H&HN summarized my cover story on how hospitals are preparing for bundled payment.
Cover story: Hospital-Acquired Infections. Rates are far too high, and health plans are big losers. Hospitals could cut in half the number of infections that patients contract each year in health care facilities, but we lack the will or have failed to install the proper financial incentives to do so, experts say.
Cover story: High Utilizing Patients: Where Are the Savings? 
If 1% of patients account for 21% of total health care spending, why is there so little proof of a return on the investment from giving them appropriate care? Also:  North Caroline Blues plan uses predictive modeling to identify high utilizers.
Cover story: Will More Transparency Finally Force Physicians and Hospitals To Compete for Patients? Health plans have more incentives than ever to foster competition, but efforts in the past have failed
Cover story: Countdown to ICD-10. Follow these 10 steps to avoid the looming cash crunch.
Cover story: Twilight for Fee for Service? Most health plans recognize how financial incentives under fee for service drive up health care costs. Although for years, health insurers have tinkered with FFS with varying degrees of success, they have yet to eliminate FFS payment. Now they recognize now that they may not be able to do so entirely or quickly, in part because FFS is inextricably linked to the nation's Current Procedural Terminology (CPT) system.
Feature article: Bay State Blues Combine Global Payment With Quality Metrics. Under Its Alternative Quality Contract, Blue Cross Blue Shield of Massachusetts aims to make global budgets work by having physicians and hospitals cut costs and pursue meaningful quality targets.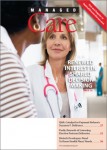 Cover story: Renewed Interest In Shared Decision Making. Twenty years after the introduction of shared decision making, health plans are seizing on this strategy to help patients choose among treatment options.  Seeking to counterbalance physicians' preferences, health plans are increasing their efforts to get more patients involved in decision making. Electronic medical record systems alert physicians to offer tools to help patients decide what's best. Often, patients choose less risky and less unpleasant options, sometimes lowering costs. Federal regulations promote these methods to engage patients more fully care decisions.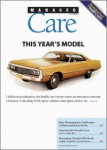 Cover Story: This Year's Model: Are We on the Way to a Real 'Learning Health Care System'? In a report published in September 2012, Best Care at Lower Cost: The Path to Continuously Learning Health Care in America, the Institute of Medicine said the U.S. health care system wastes $750 billion each year on unnecessary services and excessive administrative costs and by failing to eliminate fraud. But here's perhaps a more astonishing fact: We know how to eliminate this waste, says Brent C. James, MD, of the Institute for Health Care Delivery Research at Intermountain Healthcare in Salt Lake City.
Feature Article: Medical Homeless: Ophthalmology and the PCMH. The patient-centered medical home is evolving, but specialists are still looking for their place.
Feature Article: Medicare Advantage Loses Its Advantage. Seeking to increase competition among plans, CMS is eliminating extra payments of $1,200 per member per year.
Feature Article: What Works Best for Patients? PCORI Hopes to Provide Answers. Even today, studies show, only half of treatments are truly based on evidence. Here's an organization looking to better that share, and it may behoove health plans to help.
Q&A: A Conversation With François de Brantes: Bundled Payment's Many Challenges. Health plans are taking steps to implement this promising payment system, but so far it has not been easy.
Cover story: Is Bundled Payment an Idea Whose Time Has Come? For decades, managed care plans have sought to stop making fee for service payments. Now they're trying bundled payments for episodes of care.
Cover story: The Next Move in Physician Compensation. Here's how practices have tweaked their salary and benefits schemes in response to healthcare reform.
Feature Article: HPV Vaccine Goes Underused. Only about 35 percent of girls get the full three doses of the vaccine for the human papillomavirus, which causes most cervical cancers
Report on Process Improvement: Mayo's Clinical Laboratory Science Program Uses Lean/Six Sigma to Speed Applicant Reviews and Rolling Admissions
Cover story: For Health Insurers, Retail Space Available. Under health reform, consumers will be the new buyers in public and private exchanges, meaning care management programs will need a sharper focus on return on investment
Cover story: The Next Frontier: Patient Engagement. Seeking the best return on shared-savings programs such as PCMHs and ACOs, health plans are investing cash and other resources to attract and hold patients' attention.
Cover story: Reform Forces Health Insurers to Reinvent Themselves
To paraphrase Mark Twain, the death of the health insurance industry has been greatly exaggerated. Plans simply have to develop new business models.
Cover story: Narrow Networks Found To Yield Substantial Savings
An early managed care idea that the marketplace once rejected is now being embraced by employers and offered by health plans.
Cover story: Decision Support's New Advocates
Health Plans and Medicare Step Up To Eliminate Costly Variation
Insurers Move Toward More Equitable Care For LGBT Population
At Long Last… Pay for Outcomes Starts to Replace Pay for Performance
Cover story: Health Plans Seek Leverage When Physicians Submit Extremely High Bills